We're local and experienced.
Boostbikes was established in 2018 with a vision of supplying uniquely stylish electric bikes, manufactured to the highest standards with top brand components for the New Zealand market. Five years later our bikes are telling their own story of quality and reliability with many satisfied customers all over New Zealand. We pride ourselves on our products, our service and our warranty support.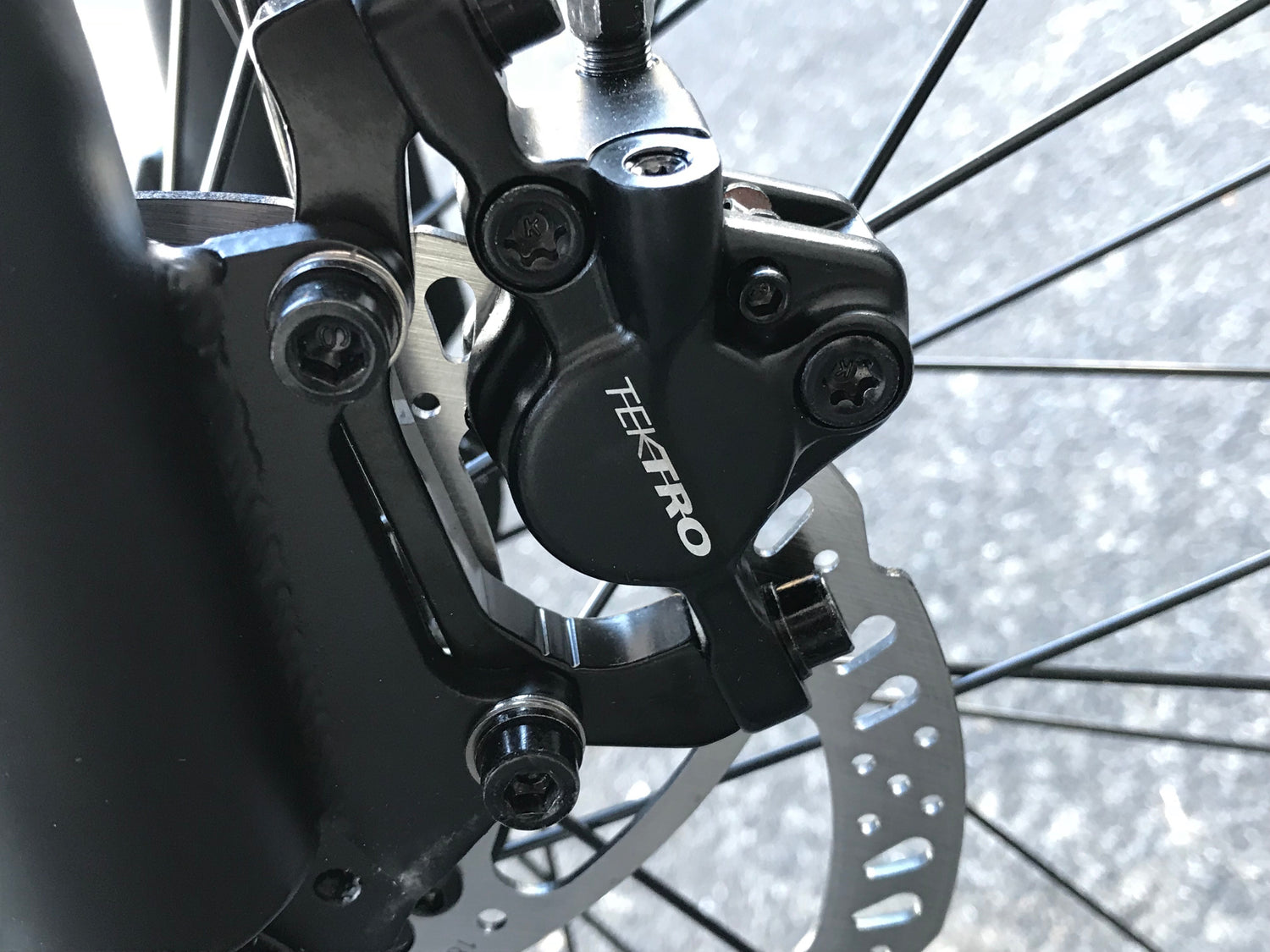 Performance
Boostbikes are manufactured to our specs for the New Zealand market. We know that customers investing in a quality ebike expect quality components to match and we use only trusted established brands.
Bafang motors, Tektro hydraulic Brakes, Shimano running gear, Samsung or LG lithium cells, Bigstone colour display and Kenda tyres give all our bikes the performance you expect.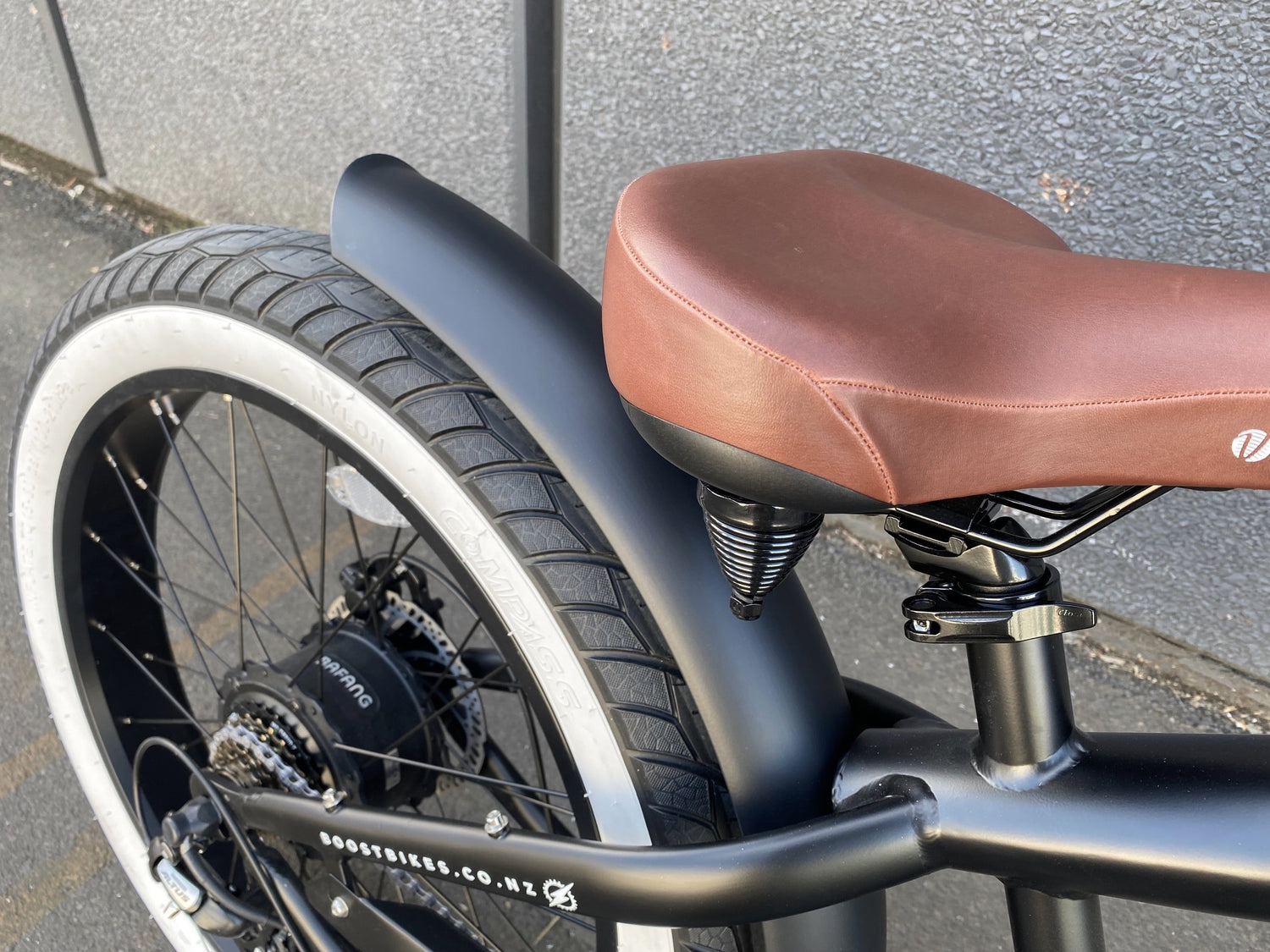 Comfort
One of the comments we get most often about our Scout ebike is how super comfortable they are to ride. As a cruiser style of ebike, comfort and a relaxed ride are what make these bikes really special. 4" wide fat tyres, comfortable sprung seat and optional front suspension gives a super smooth ride. Combined with a natural riding position similar to a classic motorbike and you have the perfect cruiser bike.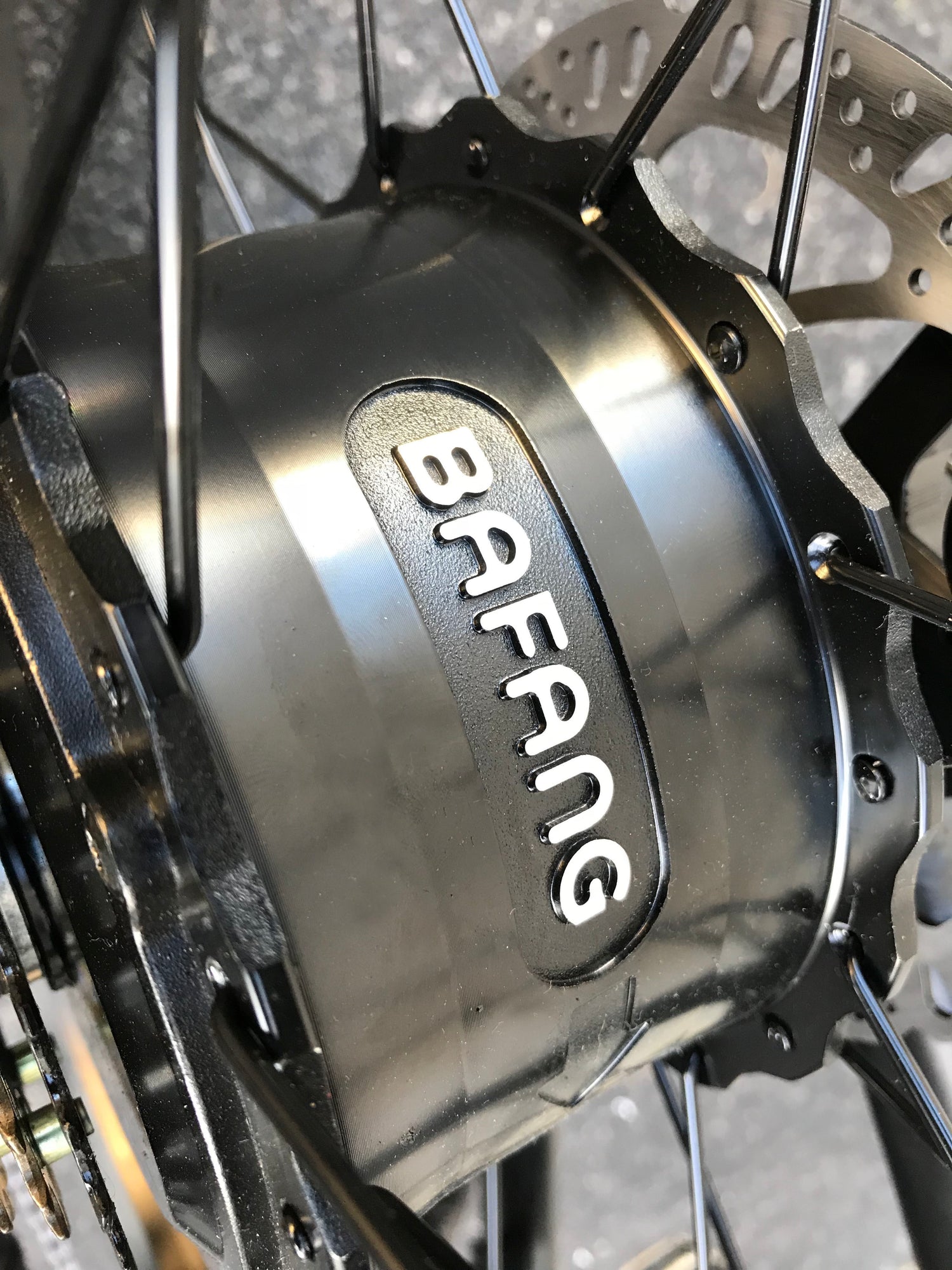 Power
Boostbikes are powered by ultra reliable super smooth Bafang Rear Hub Motors. Hub motors require little or no maintenance and are an entirely independent drive system that retain all of their components inside the motor casing, leaving nothing for you to mess with or maintain. That enclosed system also means there is a lot less to fail and since they don't connect to the main pedal drive system, hub motors don't add any extra stress to your chain or shifters, and related breakages. If you're ever unlucky enough to break a chain you can always ride home on just electric power. This can be huge if you're far from home, especially for older riders or those who use e-biking as a form of rehabilitation.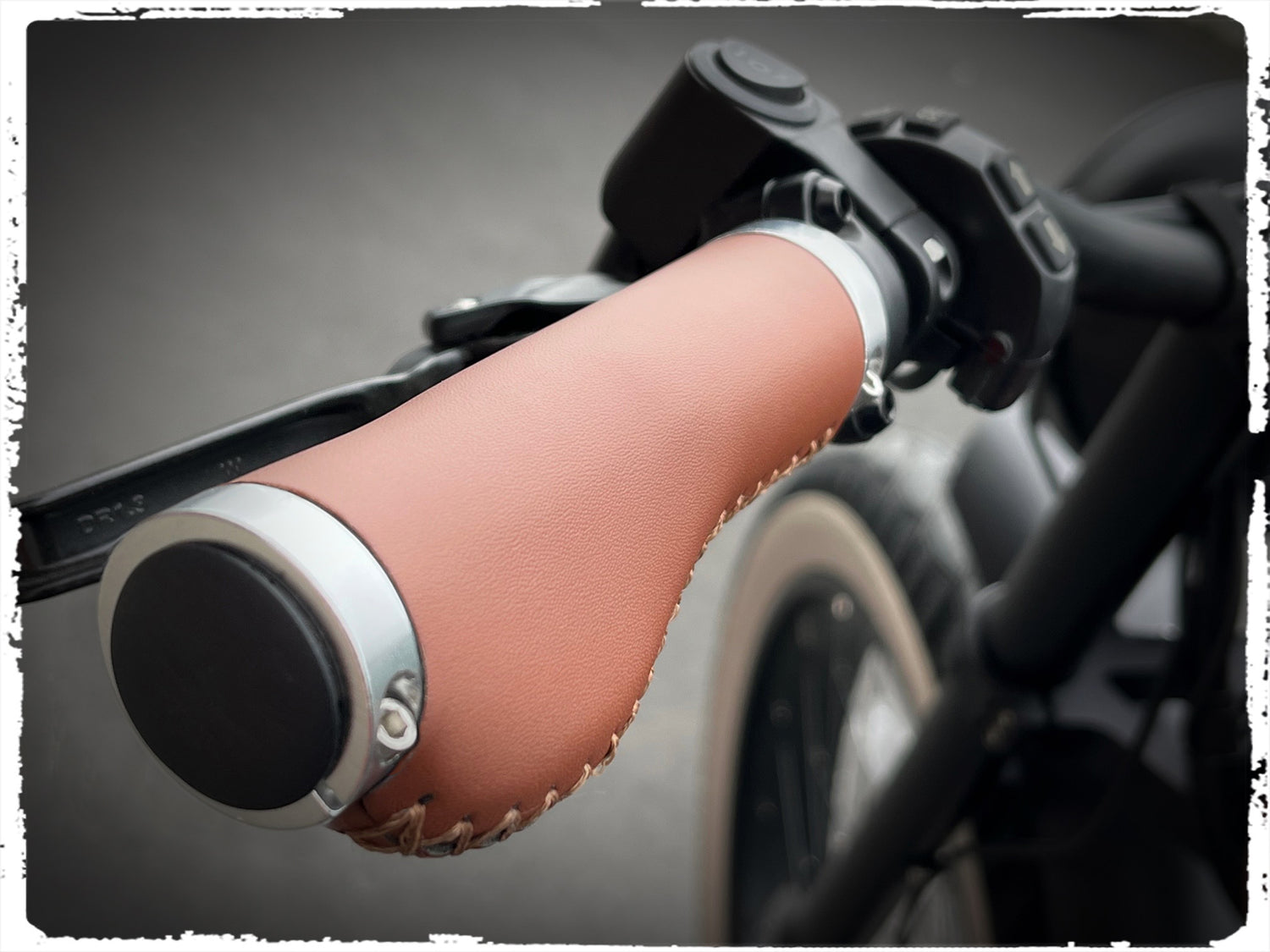 Aesthetics
At Boostbikes we have an affinity with design and aesthetics plus a sharp eye for detail. The classic motorbike styling certainly gets attention but on closer inspection you will find a high quality custom crafted machine - from the quality smooth alloy welds, integrated concealed battery and internal wiring through to the contoured and stitched leather handgrips with alloy end caps. You'll get just as much enjoyment looking at this beauty as you will riding it.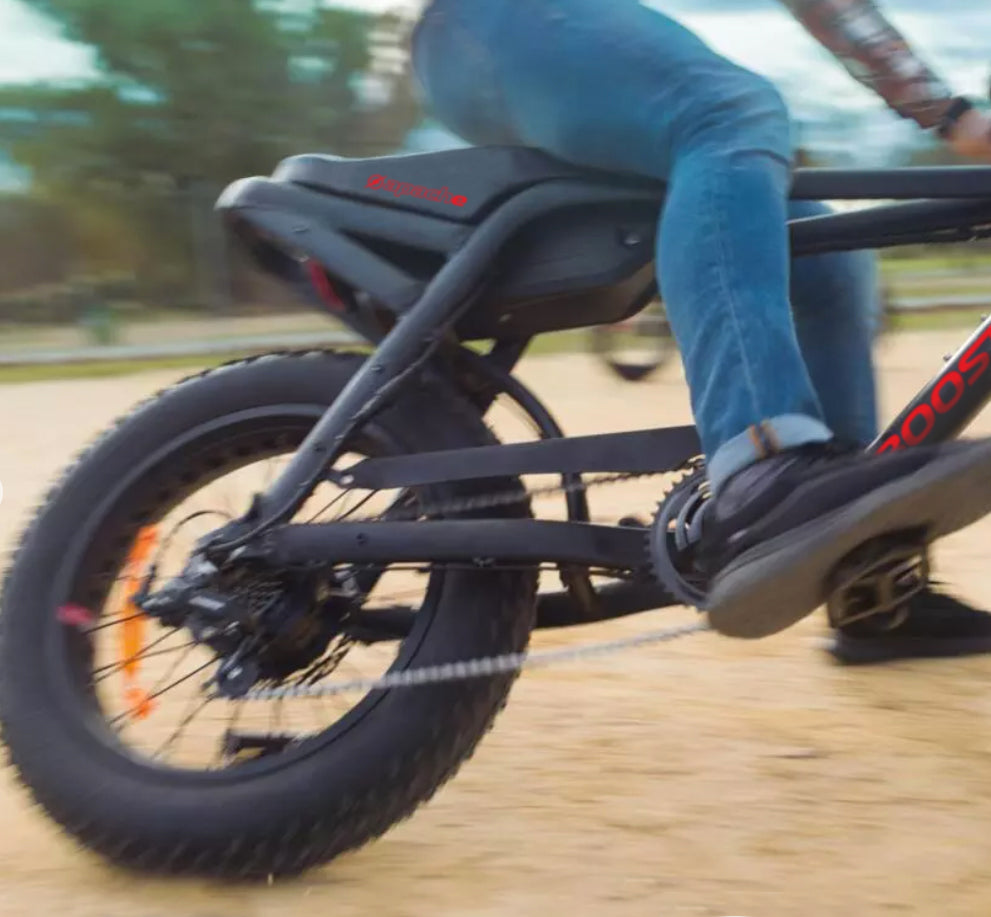 Best Fun Ever.
We haven't forgotten perhaps the most important thing and that's having fun. Electric bkes have opened up a whole new world for so many people. You control how much effort you want to put in and the bike takes care of the hard stuff leaving you free to sit back and enjoy the ride. At Boostbikes we take pride in supplying bikes that are designed to look great, while giving you the quality, performance and technology you expect.
" You are one ride away from a good mood"